Understanding the impact of support provided by an eating disorder service: SWEDA case study
We are pleased to share a new case study, and SWEDA's story, which is a real-world example of how a service has embarked on the process of determining, measuring, and reporting outcomes, working together with our Regional Improvement Office Lee Atkins, and the CORC team.
Having been selected as a winner of the GSK IMPACT award in 2021 in recognition of its valuable work to support those affected by an eating disorder, SWEDA committed itself to further service development. As part of the process of being assessed for the award, SWEDA's services and systems were scrutinised against broad criteria examining, for example, how it delivers services, how it supports staff and volunteers, and its partnership working. Feedback from this process reported that SWEDA was outstanding in most areas of its work, but there was one key service area that would benefit from some development; understanding, measuring and reporting its impact.
Sam, SWEDA's Chief Operating Officer, told us: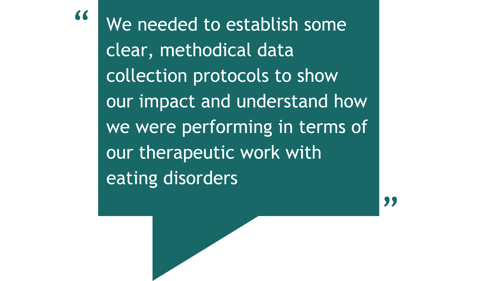 CORC worked with SWEDA to establish a suitable outcomes development plan; This consisted of key stages:
A workshop facilitated by CORC with SWEDA service leads to clarify and complete a Theory of Change for the service. This resulted in an agreed set of service outcomes.
A workshop facilitated by CORC with SWEDA service leads to design an outcomes framework based upon the identified outcomes. This made it clear what data was to be measured, when and how.
Data collection and capture: an 18-month period of capturing data from measures relating to support work and collating outcomes data along with available demographic data on service users, to be shared with CORC for analysis.
Data analysis: CORC analysed SWEDA's data and produced a CORC Outcomes data report, analysing change on outcome measures.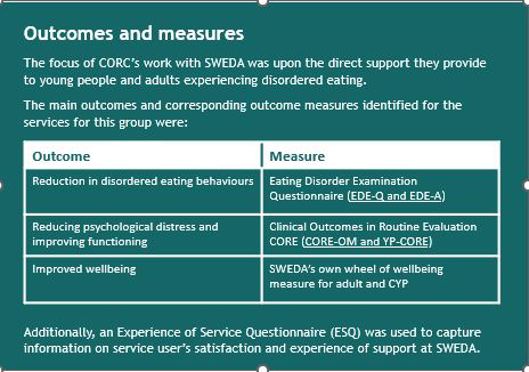 The analysis and reporting showed:
On average there was a reduction in disordered eating between the start and end of support, for both young people and adults (based on data from the EDE), and this change was statistically significant.
82% of adults and 77% of young people recorded a reduction in psychological distress, as measured by the CORE-OM and YP-CORE.
On average there, was an improvement in wellbeing between the start and end of support, for both young people and adults, and this change was statistically significant. 73% of young people and 78% of adults demonstrated improved wellbeing as measured by the Wheel of Wellbeing.
20-30% of young people and adults who received support completed EDE or YP-CORE questionnaires at two time points, which means that the above findings are not representative of all service users. 80% of young people and 66% of adults completed Wheel of Wellbeing questionnaires at both time points.
You can access the full case study here within our free resources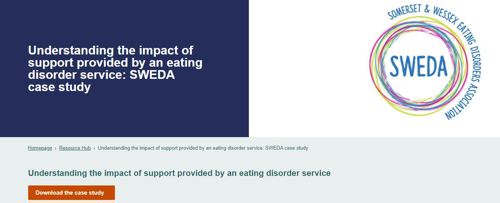 Paula Blight, CEO of SWEDA reflects on this journey: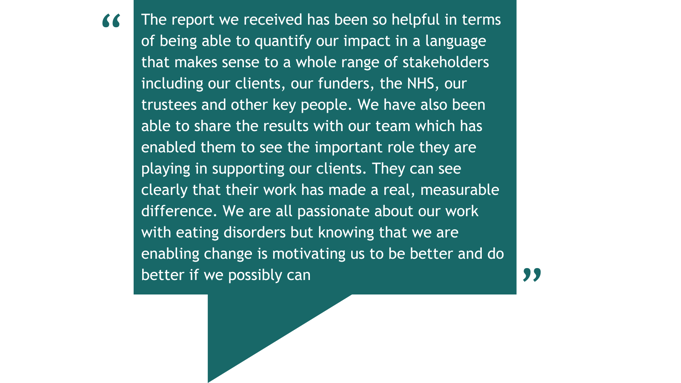 If you'd like to consider CORC's support to improve the effectiveness of your service and providing evidence to support this, please do get in touch to see how we could tailor working together.