Reflections on 'Introduction to outcome measures training'
Over the past few months, it has been exciting to deliver training as part of our annual programme along with sharing learning from HeadStart in workshops for local leaders and schools. 
There was a fantastic diversity of participants in our most recent training 'Introduction to outcome measures'. There were professionals from a wide range of sectors including NHS CAMHS services, local councils, youth justice, social care, the voluntary sector and education. CORC is increasingly working within youth justice in an evaluative capacity - see Dr Jenna Jacob's recent blog for more information on our evaluation of the Framework for Integrated Care (SECURE STAIRS). Although the training was targeted at introducing measures, it was interesting to see that most participants were already using a range of measures within their services to support children and young people's mental health and wellbeing. Many attendees were there as a refresher, or to find out more and improve their confidence in using measures meaningfully.
A key takeaway from the session was to consider the process of using measures from the perspective of the service user – how measures are introduced, used and talked about has a big impact on how children and young people see them (for more insight into young people's perspectives, see our training video).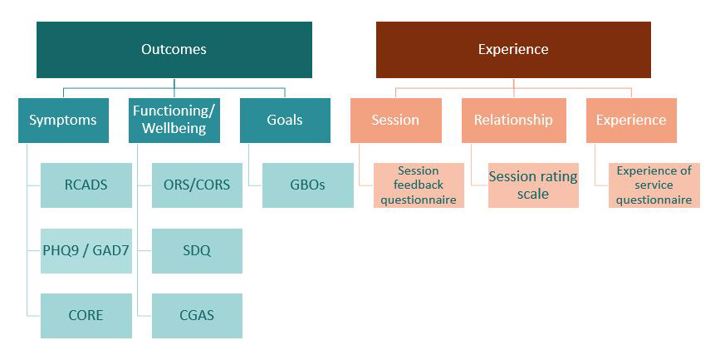 Another key CORC audience is teachers or other professionals within the educational sector. Having previously worked in secondary schools as a teacher and Head of Year, I know how important outcome measures are, and how beneficial they can be for gaining insight into pupil wellbeing and evaluating the targeted interventions. We have delivered two training sessions on 'Measurement Tools for Understanding Need' and 'Measuring the impact of mental health and wellbeing interventions' (which will run again later this year). One takeaway participants highlighted as being valuable was using a logic model to plan and evaluate interventions, which is a one-page document to explore the thinking behind interventions and their intended outcomes.  
More information on our upcoming training can be found here. I am particularly excited to be taking a break from virtual delivery over Zoom for our in-person 'Delivering and evaluating effective mental health and wellbeing interventions in school: applying learning from HeadStart' later this month! 
Rachael Grant, Regional Officer