New member spotlight: No5 Young People shortlisted for the National Lottery's 'The People's Projects' campaign 
No5 Young People was established in 1971 and is based in central Reading for young people aged 11-25 years and their families. They provide counselling, outreach and preventative mental health services, alongside delivering professional training courses for counsellors and mental health workshops in schools and businesses.  
We are excited to introduce No5 Young People as one of our new CORC associate members. Our associate membership is open to voluntary and not-for-profit organisations, enabling them to benefit from CORC expertise through training, support and resources including the Best Practice Framework.
We recently caught up with No5 to find out more about their service, their shortlisting in the National Lottery's 'The People's Projects' campaign to win £70,000 in a public vote, and their plans for CORC membership.  
Learning collaboration was what initially drew No5 to CORC and having the opportunity to learn not only from the CORC team, but the wider consortium of members. In fact, it was attending last year's CORC forum which was the initial stepping-stone to membership. No5 plan to use their free member place at CORC training events to develop practice and stay up to date with recent developments in research.  
No5 prioritises co-production and takes an individualised, youth-led approach to much of their work, including their Young Ambassadors programme, which is primarily made up of previous service users. No5 have recently been reflecting on their outcome measurement, and how to choose measures in a way that truly embodies their individualised approach. For associate members, CORC offers guidance and support about choosing, working with and understanding data from measures.  
No5 Young People have been shortlisted in the National Lottery's 'The People's Projects' campaign this May, which is a public vote for £70,000 of National Lottery funding to support an additional 300 local young people.  If successful, this could pay for over 300 young people to access counselling, therapeutic groups, Summer Transitions and Outreach services. Carly Newman, Operations and Relationships Manager, said: 'Voting is free, quick and really easy! From 9am on Monday 15th May until 12pm on Friday 26th May, you can vote for No5 by: Heading to www.thepeoplesprojects.org.uk and clicking 'Start voting'.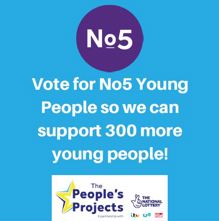 There are also future plans for the creation of a young people's Reading Hub, which No.5 are leading on. The aim is to create a Youth Information, Advice and Counselling hub, which will enable drop-in wellbeing sessions and live-in signposting to services in the area, which is currently being led through focus groups across Berkshire.  
We wish No5 well with their People's Projects campaign and hope to share more with the CORC network about their approach to co-production soon.  
If you would like further information on associate membership or if you have further questions about how we work with voluntary sector organisations, please contact us at corc@annafreud.org.  
Rachael Grant