Franziska Tachtler shares her work on designing mental health technologies for young people
Using technology to promote mental health and treat mental health is increasingly discussed in research and industry, especially to reach out to young people. However, often the mental health practitioners working with the young people are not included in discussions about the future of mental health support. This is why I organised, together with two other visiting PhD students at EBPU, Anja Čuš and Toni Michel, a series of design workshops with experts working in mental health for young people in May, June and July.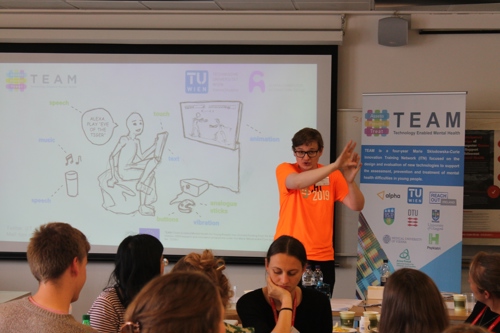 In this blog post, I would like to share with you why these workshops are so important for our research and provide you with some brief insights emerging from them.  
My PhD is part of a cross-European network on digital mental health interventions for young people called Technology Enabled Mental Health for Young People (TEAM). The TEAM network focuses on the design, development and evaluation of new technology enabled mental health services.
I have a background as an Interaction Designer which means that I design the interaction between a user and a product, and the experience of using a product. To design technologies that are engaging and long-term, I need to understand current practices and the context I am designing for. Without this context the technology solutions might not be fit for purpose.
For this reason, we consulted mental health experts and future users in the design process. The aim of our workshops was to draw on their experience to date and to look ahead at how mental health technology could be integrated into practitioners' work in the future.  To facilitate discussions, we prepared a set of cards showing different interventions, devices and input and output modalities of technologies. One of the challenges when designing mental health technologies is moving away from thinking of app-based solutions and using a variation of input and output possibilities. The cards helped the participants to think beyond screen-based designs that they are more familiar with from their everyday life.
Ideas generated in the workshops ranged from visualizing information with animations to giving tactile feedback such as vibration. We also looked at using a variety of devices such as smartwatches, or drones. I was impressed by all the creative ideas the participants came up with.
They also highlighted particular issues in relation to mental health and technology, such as privacy issues around data collection, accessibility, screening mental illnesses and ways of engaging and personalizing.
The workshop participants' input will inform our decisions when designing future mental health technology. In addition, we hope to stay in contact to get expert feedback during the design process, and to share how participants' time and input improved our concepts.
Franziska Tachtler is on a PhD placement from Vienna University of Technology (TU Wien) with the Evidence Based Practice Unit (EBPU).