Developing a routine outcomes measuring guidance video for staff induction and training.
Background
Avon and Wiltshire Mental Health Partnership Trust (AWP) have been long time members of CORC and have been supported on their journey to integrate and standardise good practice of Routine Outcome Measurement (across all of their Child and Adolescent Mental Health Services (CAMHS) and pathways. The Trust developed a ROM protocol founded on the use of service users' goals for treatment alongside key outcome and feedback measures across CAMHS. Ongoing efforts have been made to ensure that all staff understand and are able to work to the aims and expectations set out in the protocol, including new members of staff in the Trust.
In 2022 AWP took part in the NHSE Discovery programme which aimed to explore the experience of ROM in AWP CAMHS and make recommendations for improving the use of outcome measures . This work involved commissioning an independent provider to undertake qualitative interviews with three key audiences: clinicians, parents and carers, and young people. One of the recommendations was to the improve the ability and confidence of staff to access and use outcome and feedback tools meaningfully in their practice.
As a result of this project, AWP commissioned CORC to design, develop and produce a ROM training video to be embedded into staff training and new staff induction. Together AWP leads and CORC representatives decided that the best way to engage staff with this guide was to produce a recording that detailed the key pieces of information and make it easy for staff to access all the resources and support that they might need.
Process
To ensure that the training video was most relevant to mental health professionals and their support for children and young people, we agreed with AWP that it would cover:
The important benefits to children and young people and to practice, associated with using outcome and feedback tools

The key principles of using measures

What children and young people tell us how they want measures to be used in their support

The AWP outcomes protocol and expectations for the use of measures in all work with children and young people

How to access all of the resources associated with the AWP outcomes approach along with accessible guidance and where to go for any more information
One of the key findings from the NHSE Discovery work was that mental health staff at AWP CAMHS wanted to see and use real world examples (case studies) of how measures are used in practice.  As such, we agreed to integrate the voice and experiences of AWP staff alongside those of service users. Interviews were therefore recorded with key staff members who were using measures in their work to capture their experiences, views and suggestions. The main parts of these recordings were cut and placed at key points in the final recording so that each point it made was reinforced by the real-world experience of AWP practitioners. To ensure that the voice of children and young people was integral to the training, we incorporated a video made by CORC with young people which presents their views and preferences for ROM.
Result
We produced a 45 minute training video consisting of a combination of a facilitator speaking over slides, recordings of AWP mental health professionals and the CORC video made with children and young people. The video is available on the Trust LEARN system on the staff intranet system alongside all associated resources. to embed the learning into daily practice. The video is also to be made available on CORC's YouTube channel.
Learning
The process of developing a staff training video revealed that there were staff members in the Trust who are experienced with and enthusiastic about using outcome and feedback tools with children and young people. The recording allows their experiences and perspectives to be captured and shared with the wider workforce in a way that is very difficult to achieve in other ways.
The views of staff and children and young people are essential to ensure that the video engages staff and makes it relevant to them. The whole video is based upon practice and how the use of measures can help children and young people to get better support.
To ensure that all staff access the recording and receive the same messages, it is crucial that it is an integral part of new staff induction as well as annual staff training. By doing so each and every staff member is aware of the expectations of using measures in their work, why they are important and how to use them effectively.
AWP service leads report that they are very happy with the end product and found it to be a really collaborative process between their Trust and the expertise of CORC. They tell us that the video feels very personal to their service, including practitioners from the service and their experience using outcome measures within the service and the model that they developed.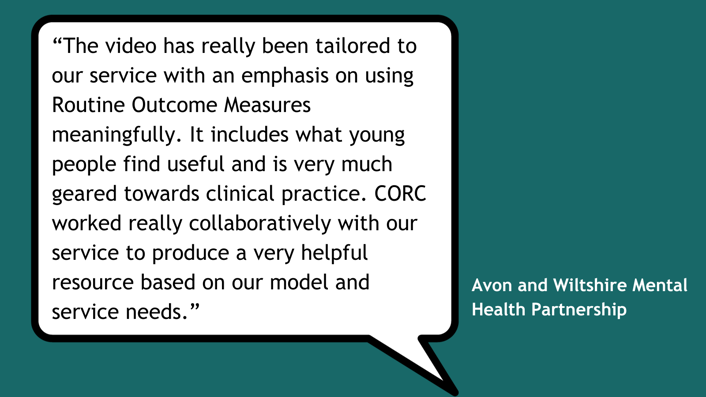 They often find that the mandatory training is generic, whereas this is specific to working with children, young people and families.